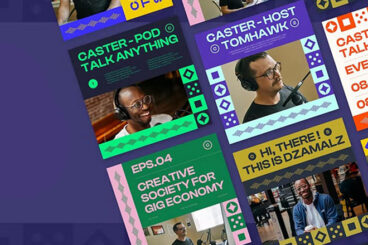 One of the most important parts of creating a successful podcast is building a brand around it. And your podcast cover art plays a key role in that process.
Today, we want to help you kickstart that brand-building process with a professional podcast cover art design. This collection includes templates for making cover art designs for all kinds of podcasts.
We also included a few cover art designs for YouTube podcasts as well. All of these templates are created by experienced designers and they are very easy to customize, even if you don't have graphic design skills.
Check out all the podcast cover art templates below and also find a few useful tips for cover art designs at the end of the post.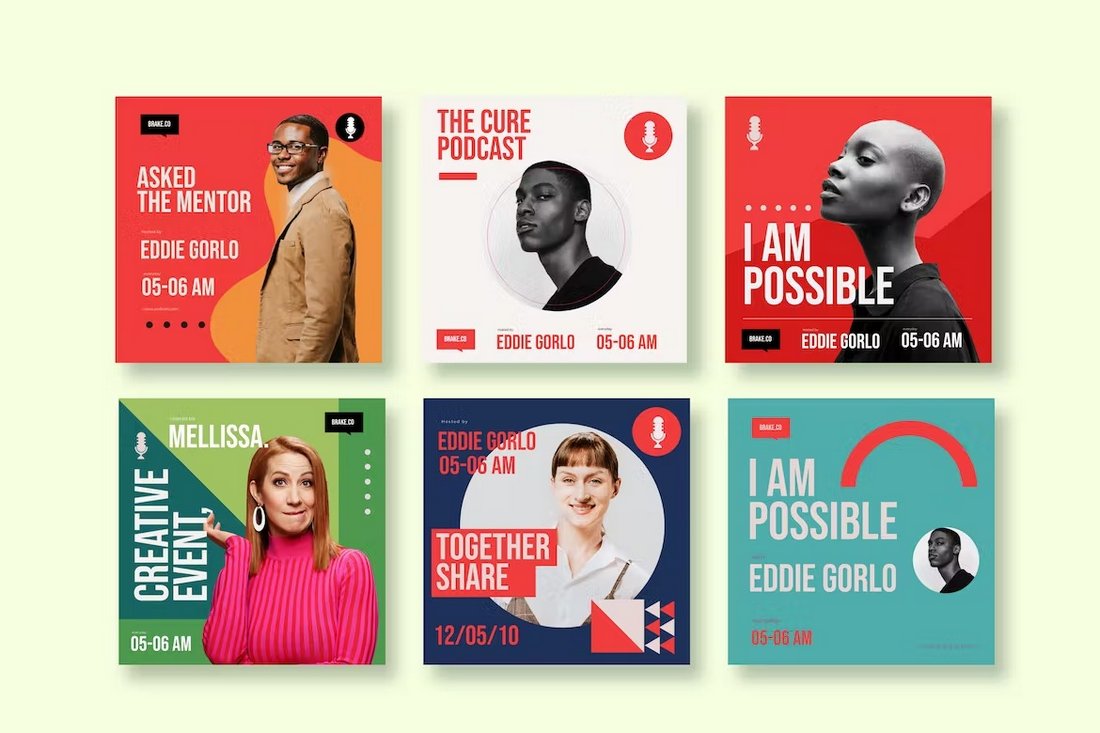 This bundle gives you multiple choices to pick the perfect cover art design for your podcast. There are 6 different podcast cover art templates in this pack with different styles of designs. They are suitable for business, creative, and educational podcasts. The templates are available in Adobe Illustrator format.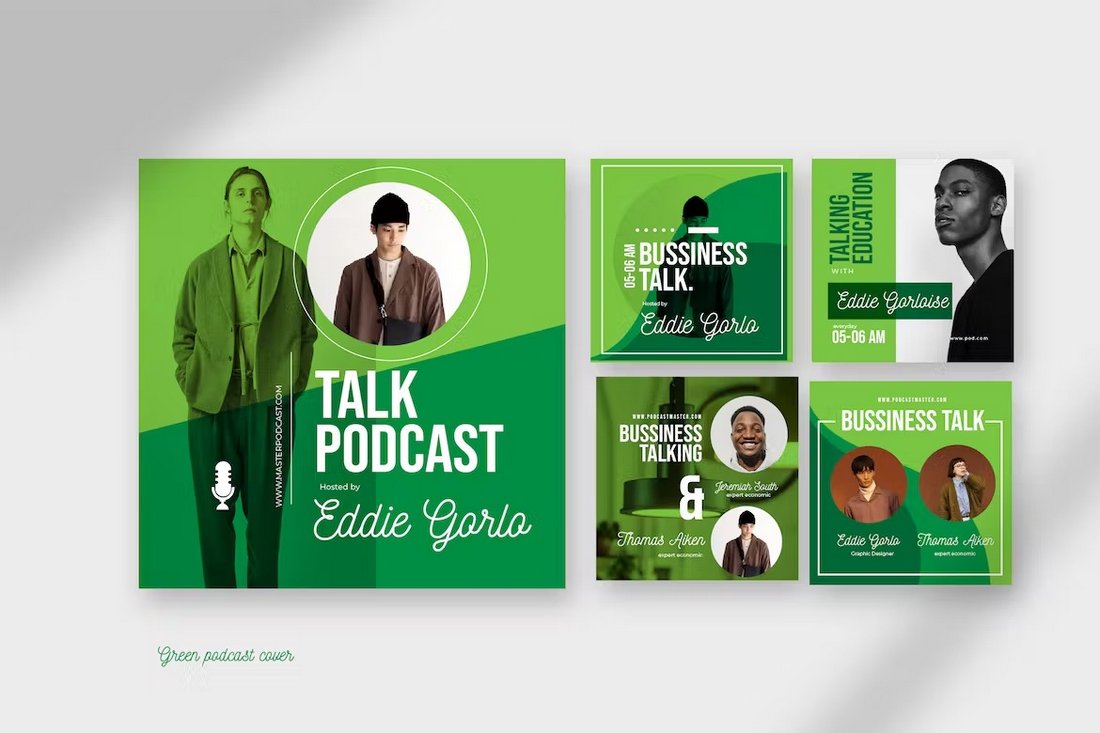 The color green is the theme of this cover art design. It adds a fresh look to the overall design of this cover art collection. Of course, you can easily change the colors to your preference as well. This pack includes 6 podcast cover art templates to choose from in AI and EPS file formats.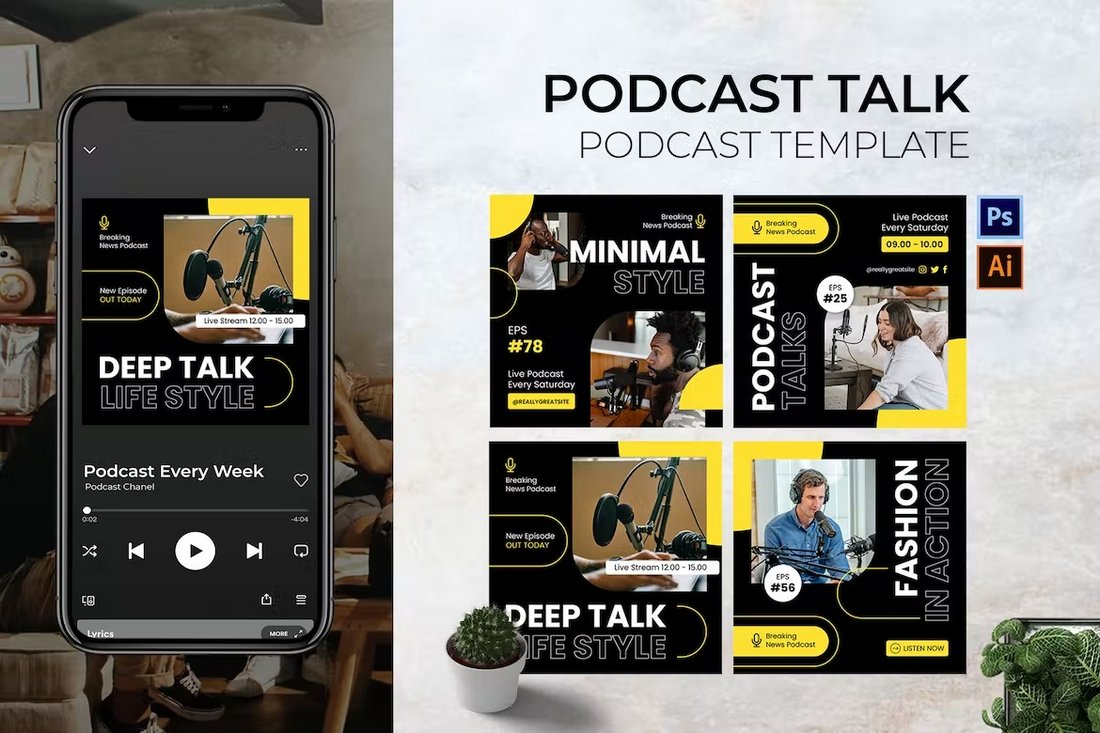 The podcast cover art templates in this bundle have beautifully modern designs featuring black and white colors as well as the color yellow for highlights. These templates are perfect for business and finance-themed podcasts as well as many others. There are 4 templates in this pack and they come in both Photoshop and Illustrator formats.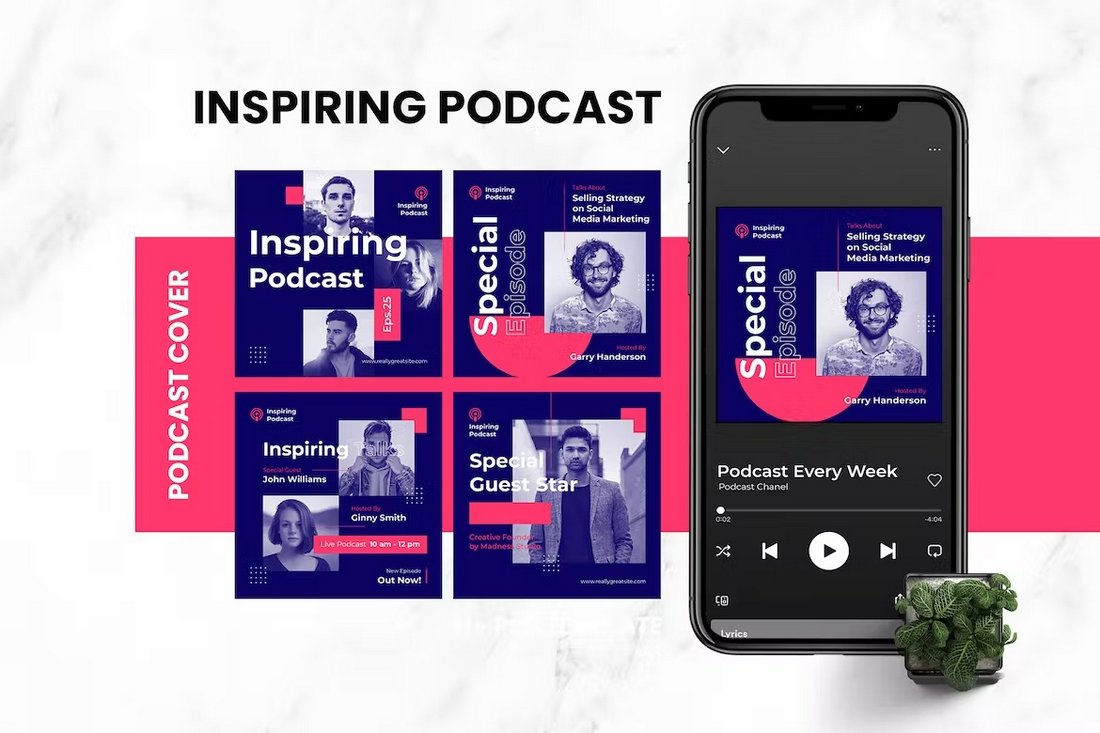 If you have a podcast related to technology, startups, agencies, or finance, this collection of cover art templates is perfect for your branding needs. It includes 4 creative podcast cover art designs featuring trendy colors, abstract shapes, and beautiful typography.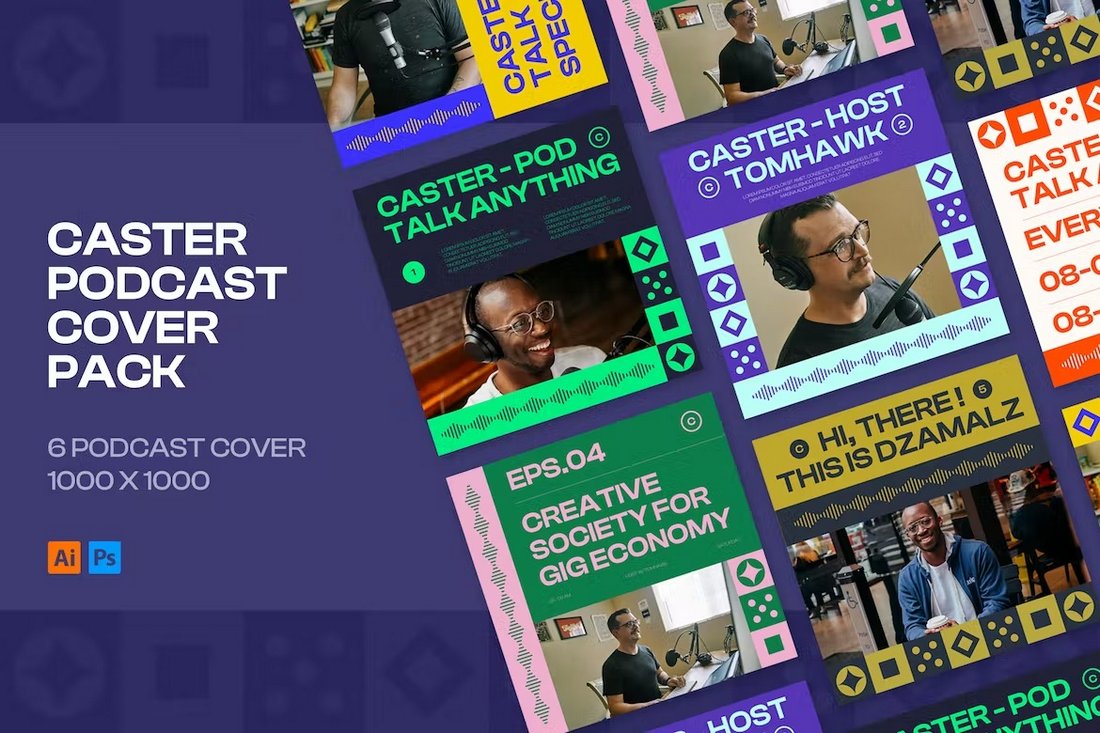 Caster is another great collection of podcast cover art templates. It includes cover designs with multipurpose layouts that you can easily customize to make cover art for various types of podcasts. The colorful designs and the geometric shapes give a unique look to each template as well. There are 6 cover art designs in this pack.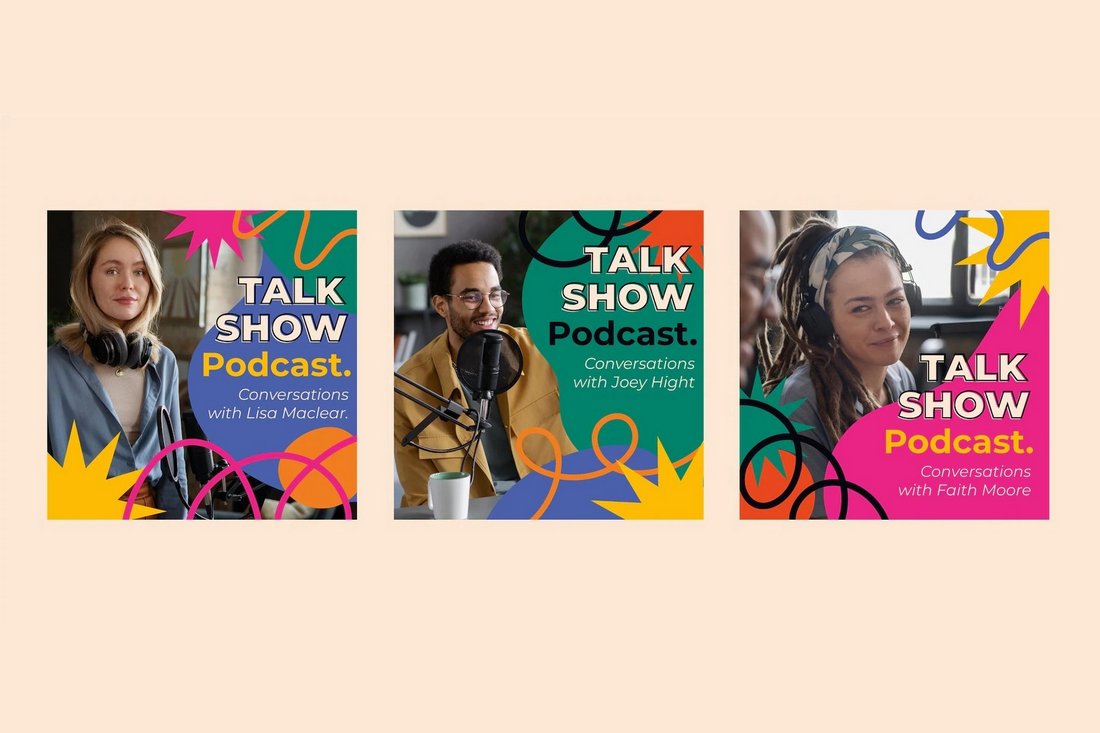 This free podcast cover art template is perfect for making a beautiful cover design for your lifestyle and creative podcast channels. It features a cool hand-drawn-style design with many creative elements. The templates come in Adobe Illustrator AI and EPS formats.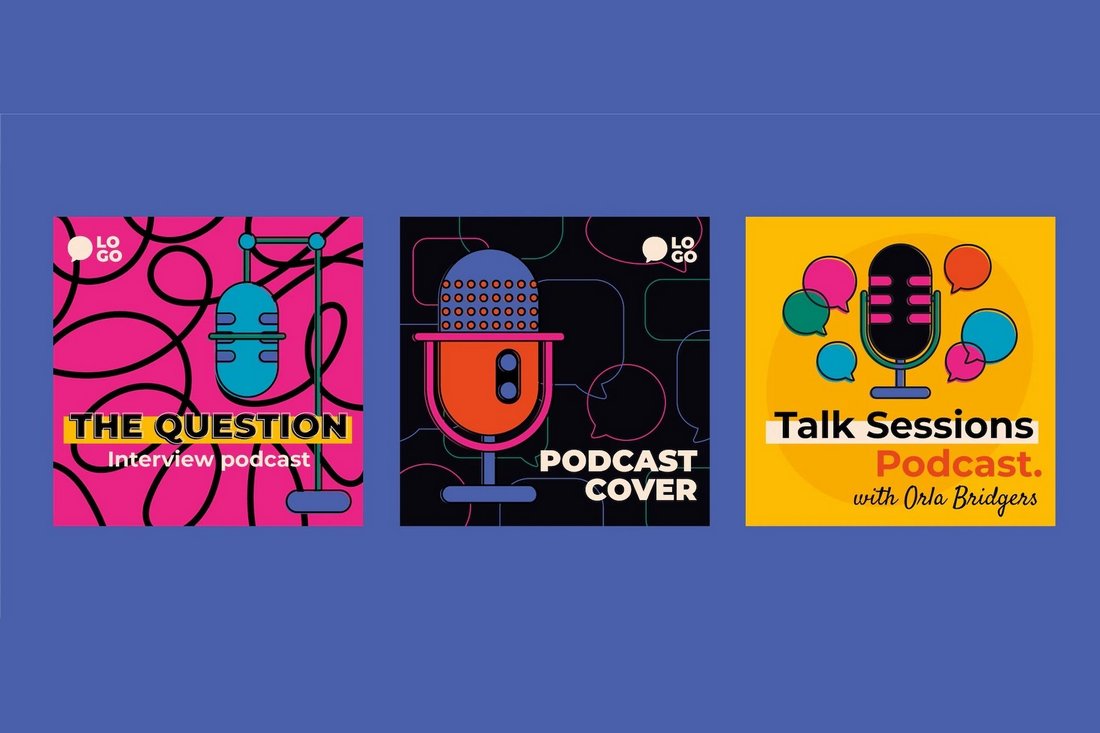 This podcast cover art template is also free to download. It features bright and vibrant colors with a creative design. There are 3 different designs to choose from and they are ideal for talk show podcasts.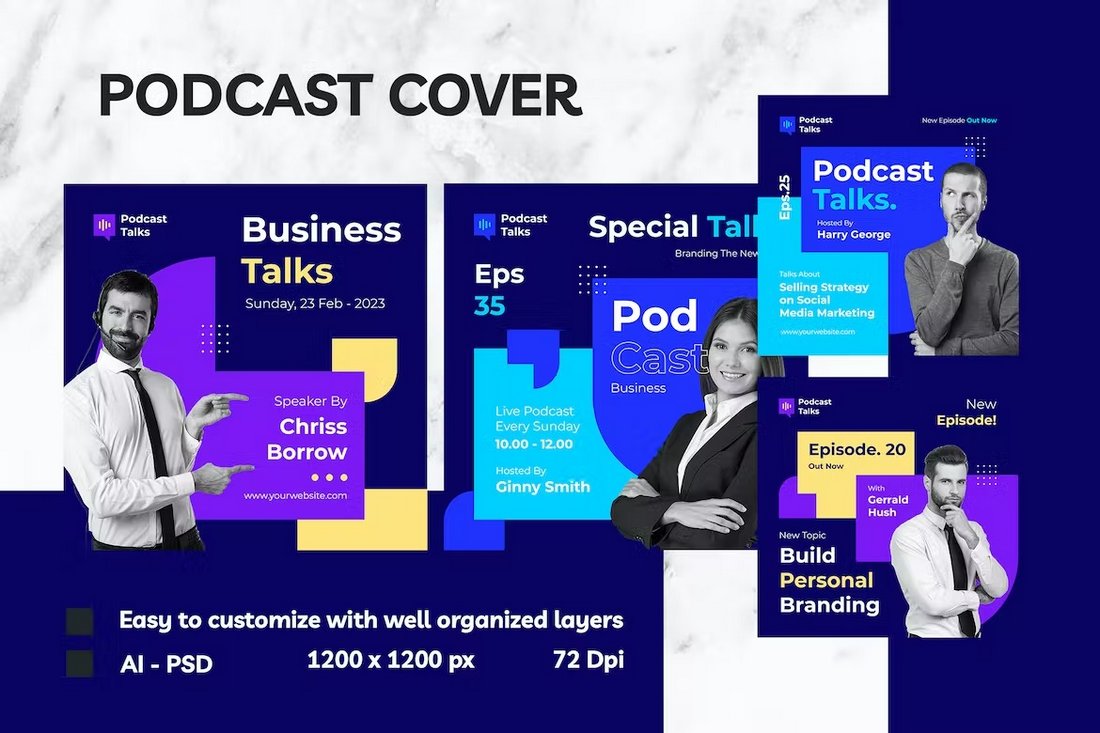 This set of podcast cover art designs will fit in perfectly with creative podcasters, including podcasts related to design, agencies, coaching, and speakers. There are multiple cover art designs to choose from and you can fully edit and customize them using Photoshop or Illustrator.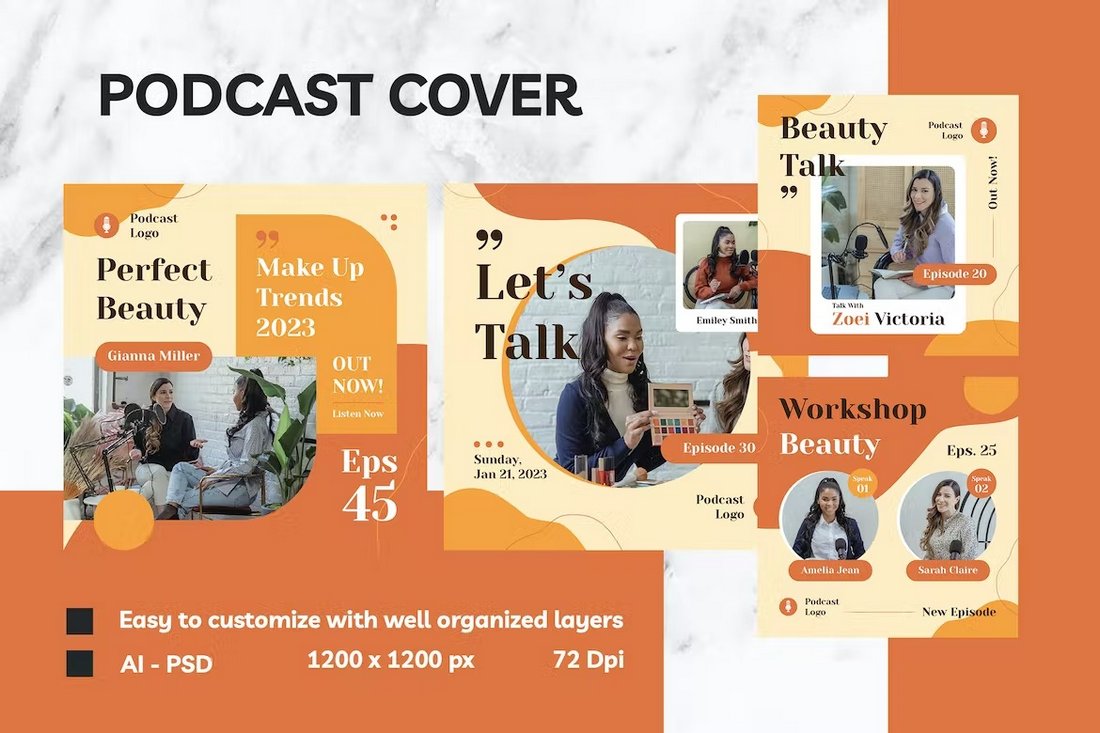 Podcasts related to beauty, fashion, and lifestyle topics are trending these days. Make sure your podcast stands out from the crowd with this cover art templates kit. It includes 4 beautiful cover art designs made explicitly for lifestyle podcasts. Each template comes with organized layers and free fonts.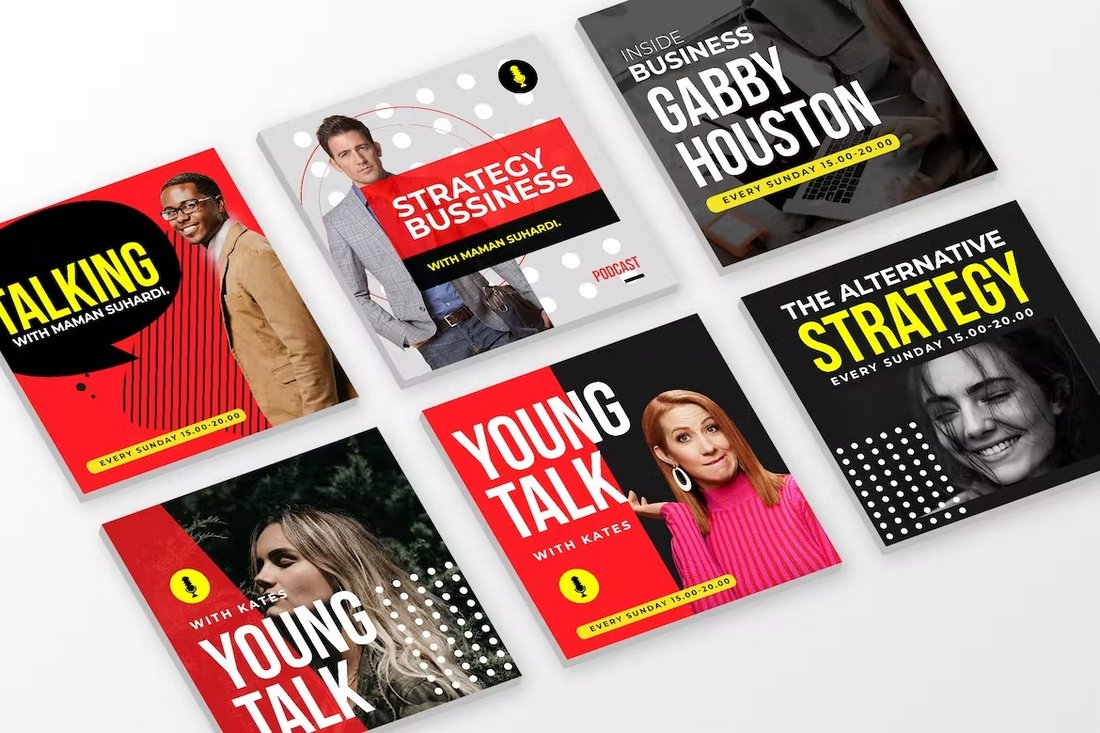 Whether you want to make an educational podcast or a business strategy podcast, this pack has multiple cover art designs that fit perfectly with your brand. There are 6 unique podcast cover art templates in this pack with editable colors, fonts, text, and images.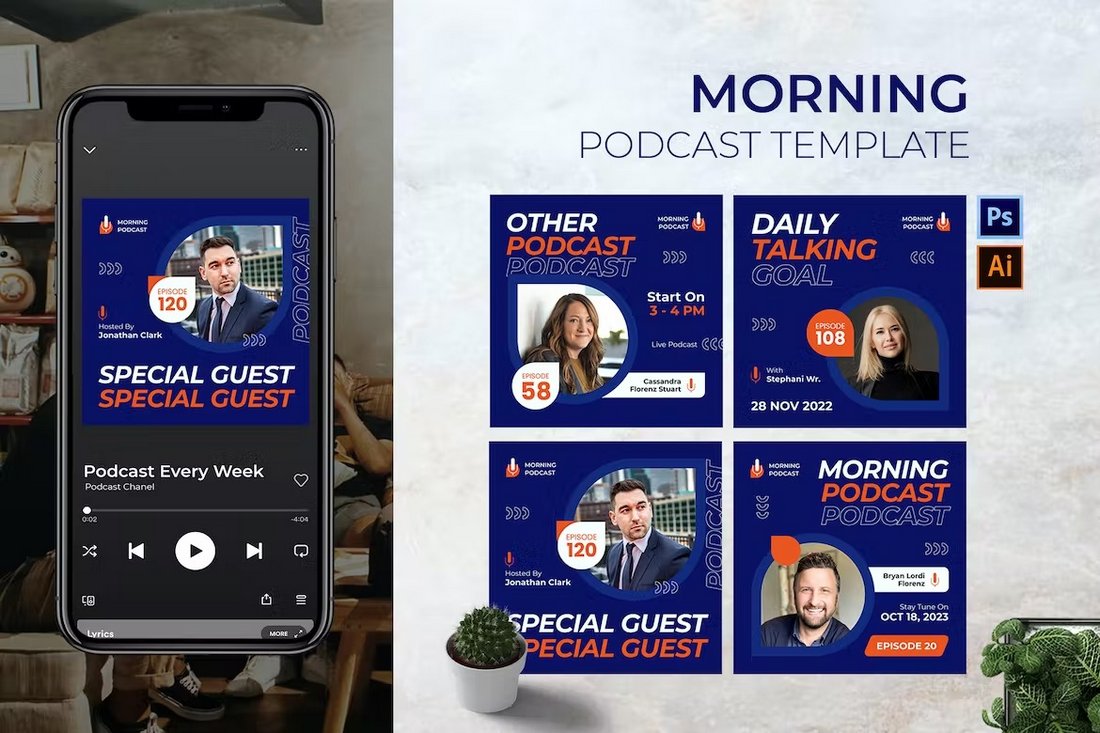 The podcast cover designs in this bundle are made with talk shows and other conversational podcasts in mind. They have modern and clean designs that exude professionalism. You can choose from 4 different designs that are available in AI and PSD formats.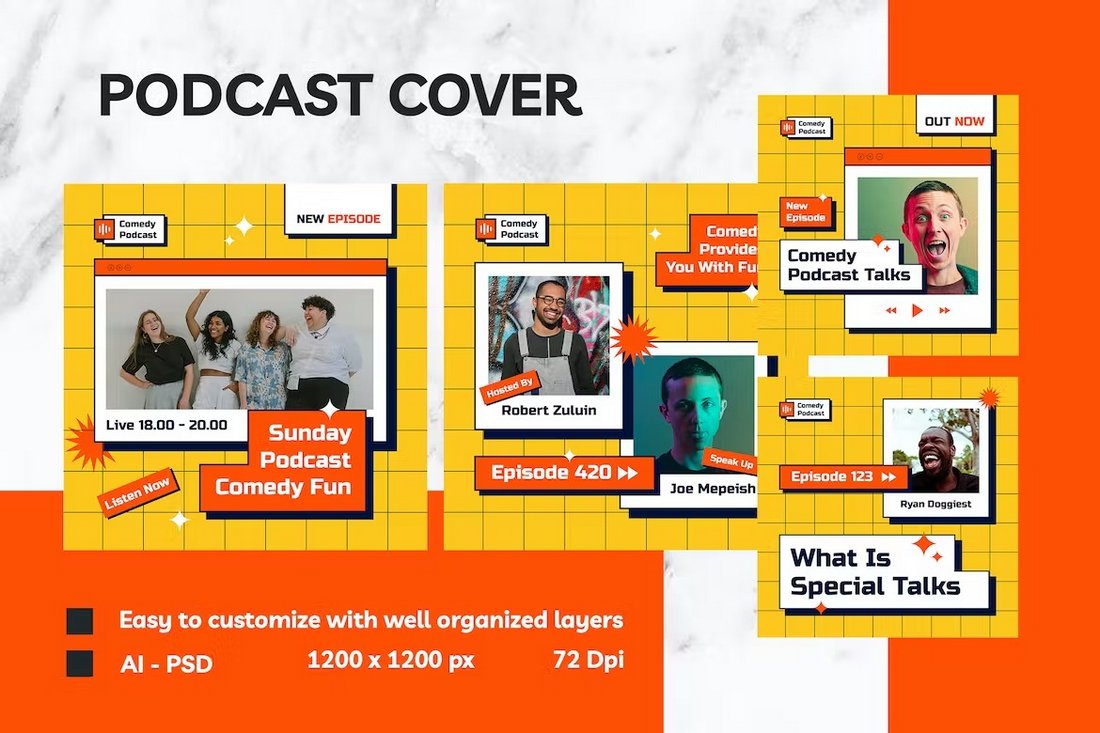 You can use these podcast cover art templates to craft colorful and creative covers for your fun, comedy, and entertaining podcast channels. The templates feature bright colors mixed with geometric shapes and fun typography. You can fully customize them to your preference.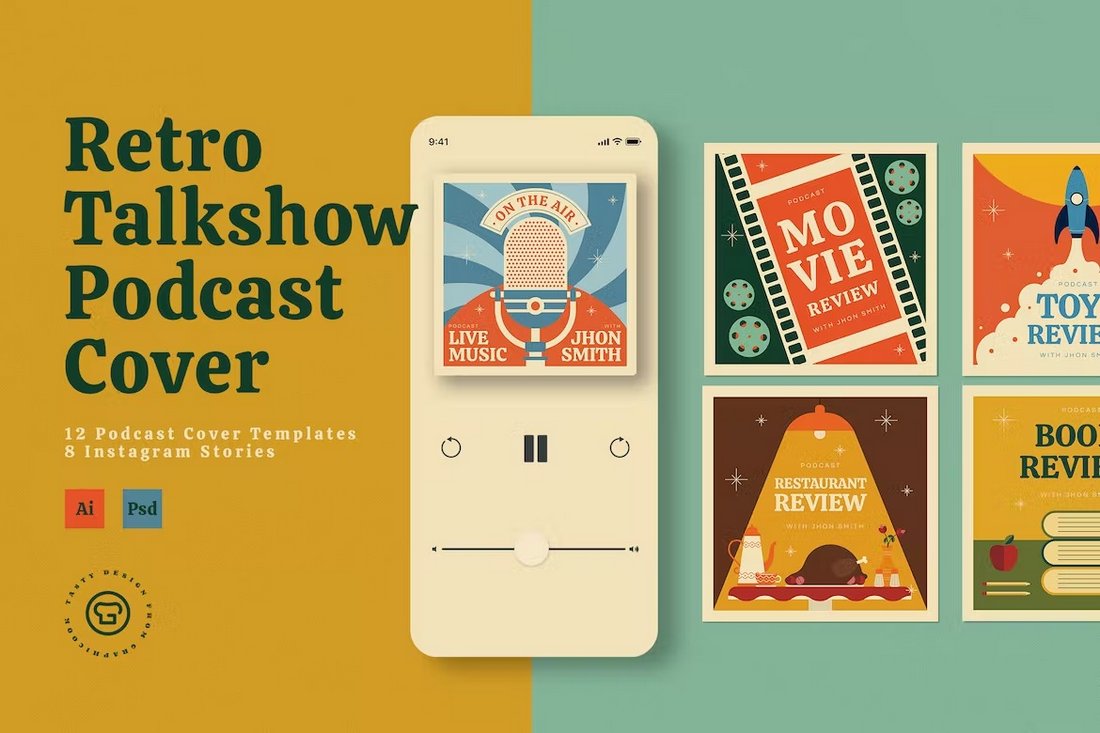 Fans of retro or vintage styles of designs will certainly appreciate this cover art design. The bundle includes 12 different podcast cover templates with creative and retro-themed designs. You can edit each template using Photoshop or Illustrator.
This free podcast cover art template includes 3 trendy designs for you to choose from. They feature bright colors and come in AI and EPS file formats. You can use these templates to make cover designs for fun and entertainment-related podcasts.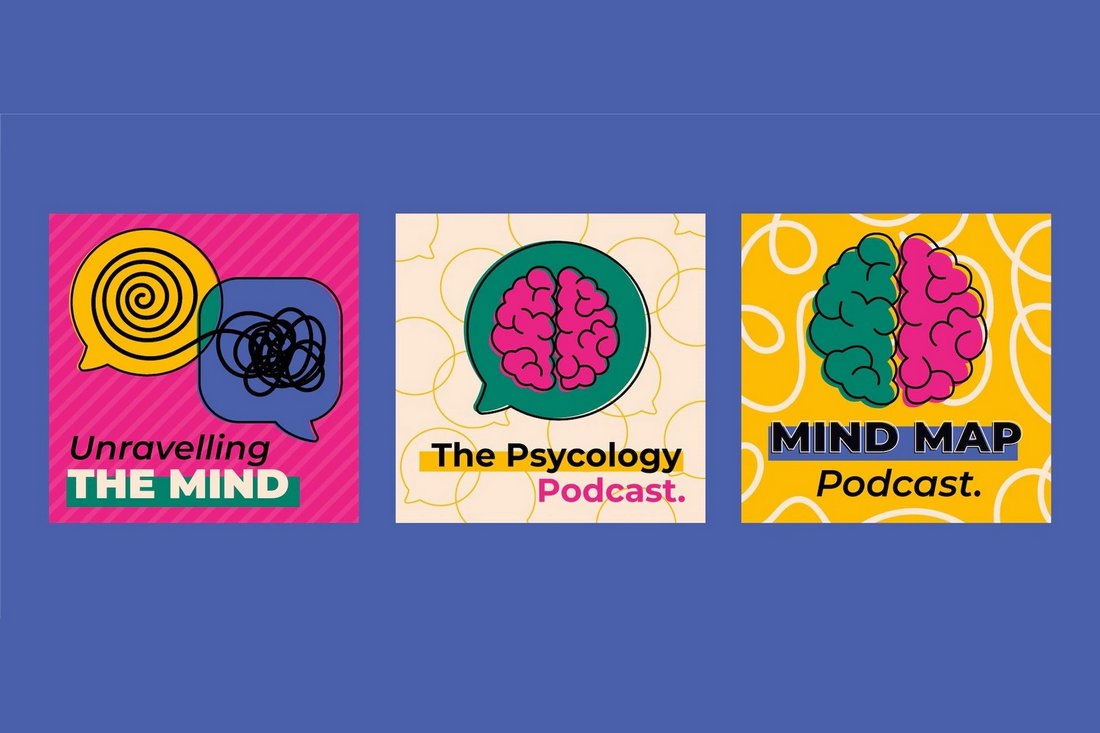 If you have a science, technology, or educational podcast, this free cover art template will fit perfectly with your channel. It features simple cover designs with creative illustrations and typography.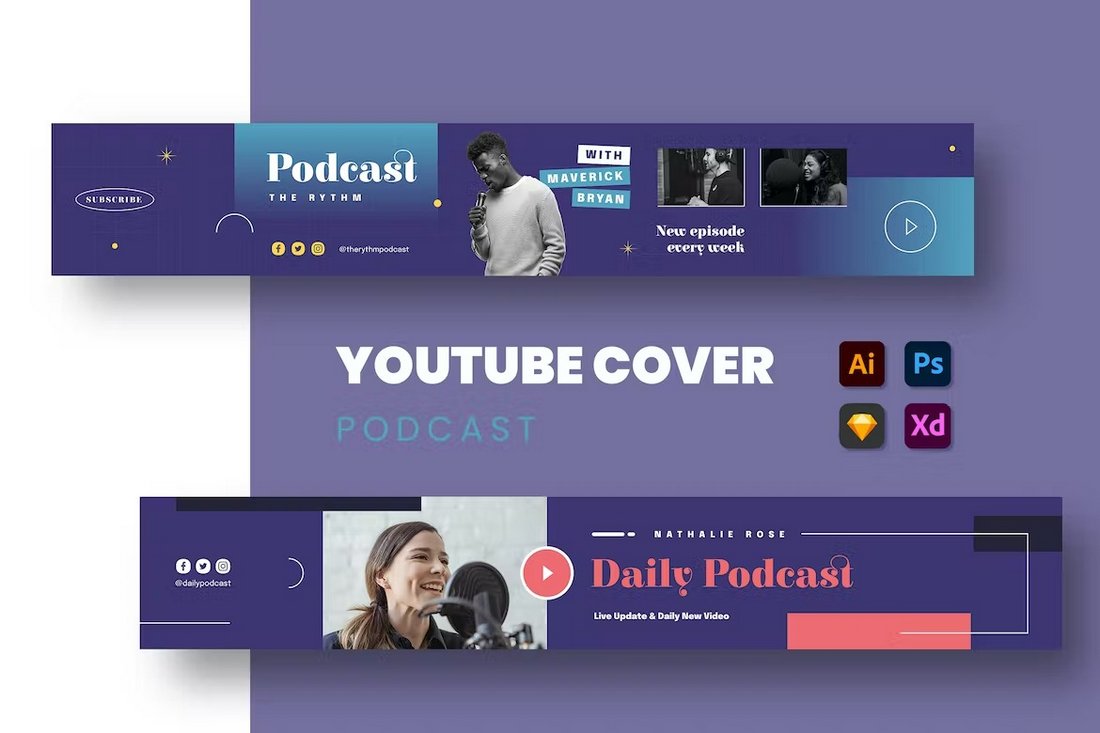 This podcast cover art template is made with YouTube channels in mind. It features a modern and trendy design filled with gradient colors, stylish shapes, icons, and typography. There are 2 different styles of designs to choose from. And they come in Photoshop, Sketch, Illustrator, and Adobe XD formats.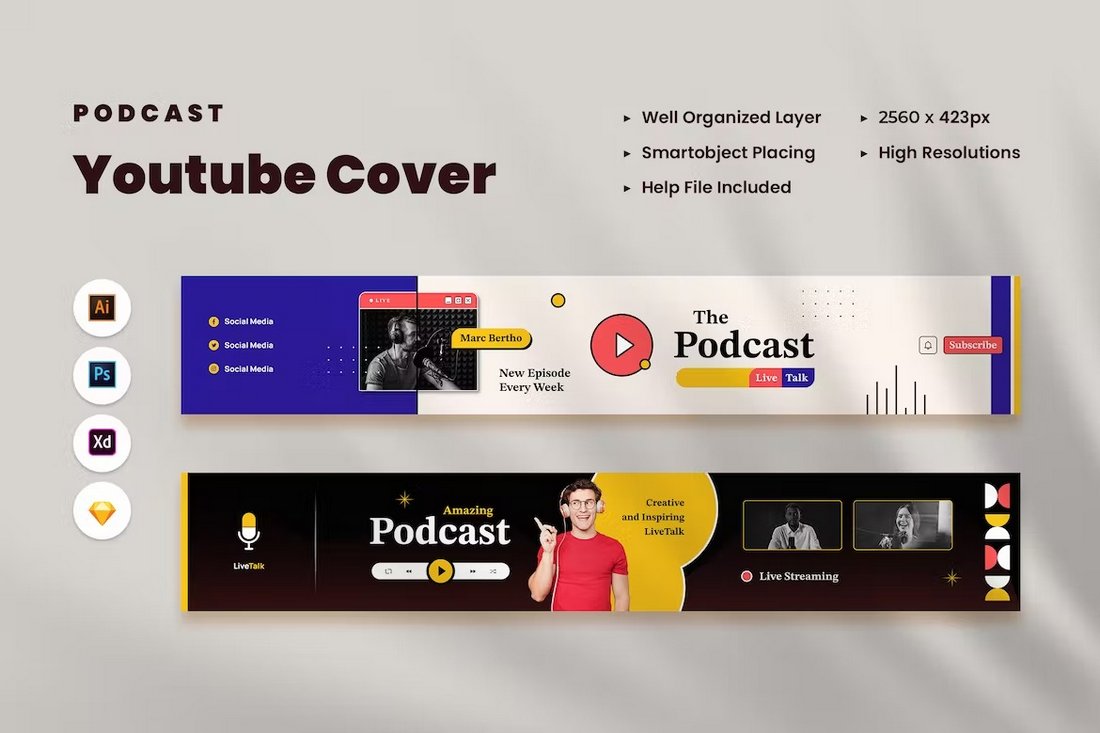 This cover art template will help design a creative and colorful cover for your YouTube channel. It has placeholders for showcasing your podcast schedule, brand logos, and even a photo of yourself. These templates are also available in multiple file formats.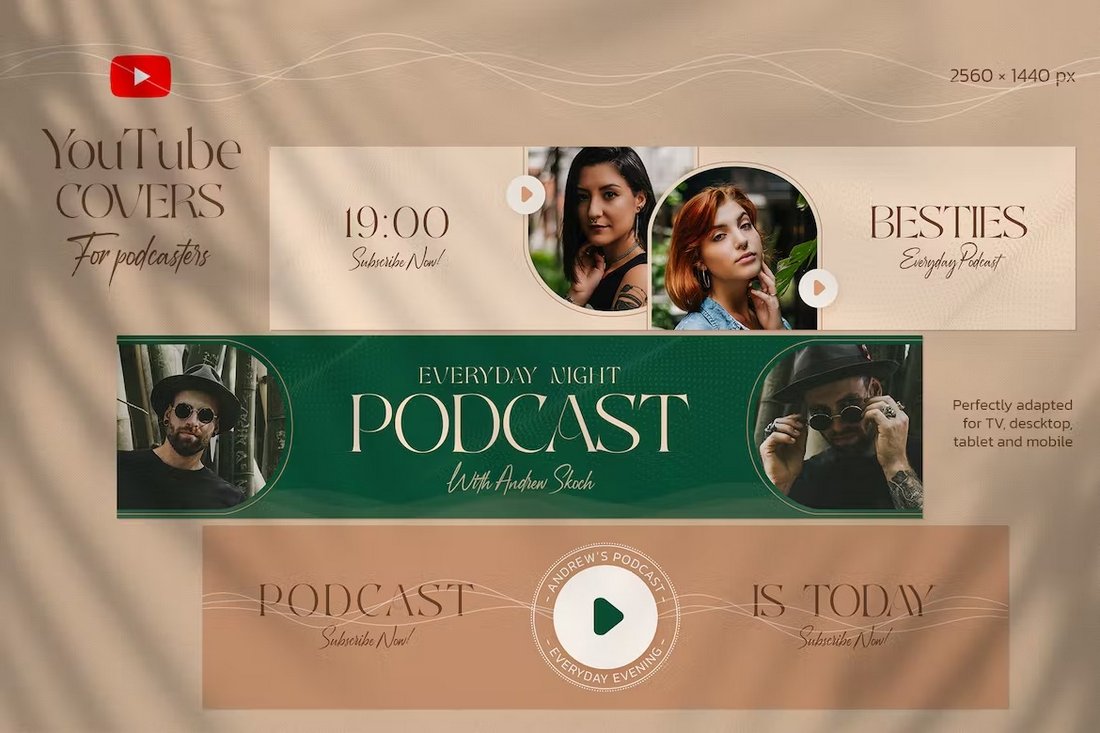 You can design beautiful cover art for lifestyle and beauty podcasts using this template kit. There are 3 unique cover designs in this pack that will look perfect across mobile and desktop platforms. The templates come in PSD format.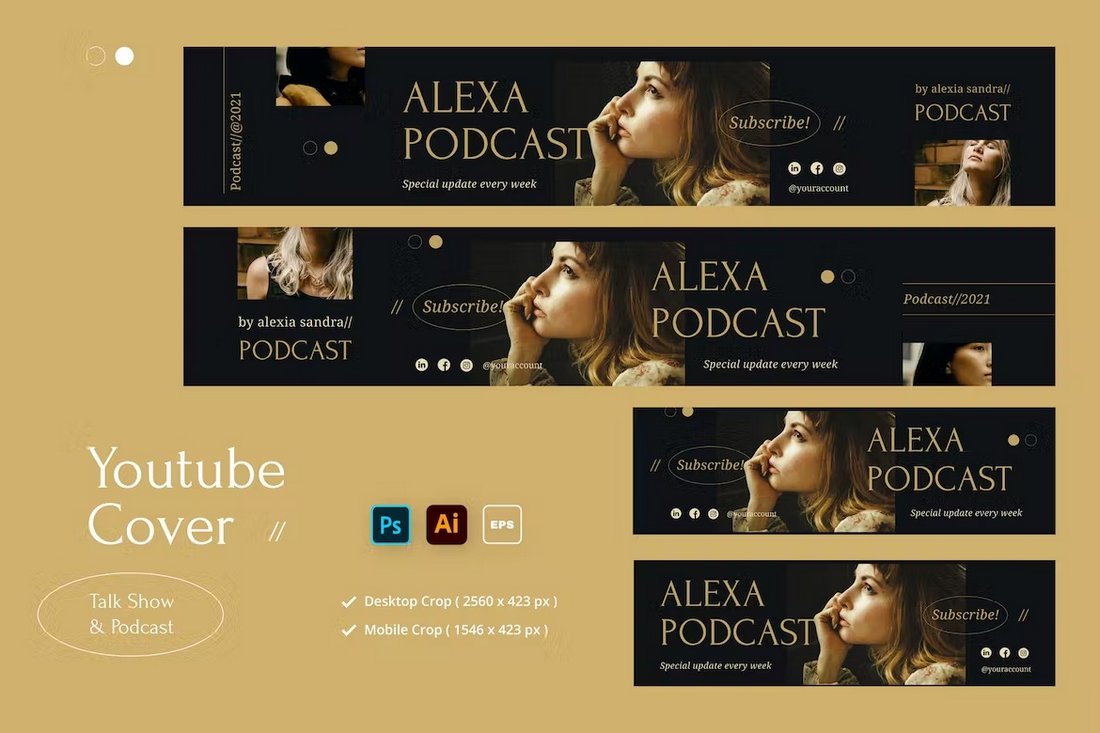 The elegant and modern look of this YouTube cover art template features a luxury vibe that will make your podcast look more professional. It's ideal for fashion, beauty, and feminine podcast channels. There are two variations of the design as well.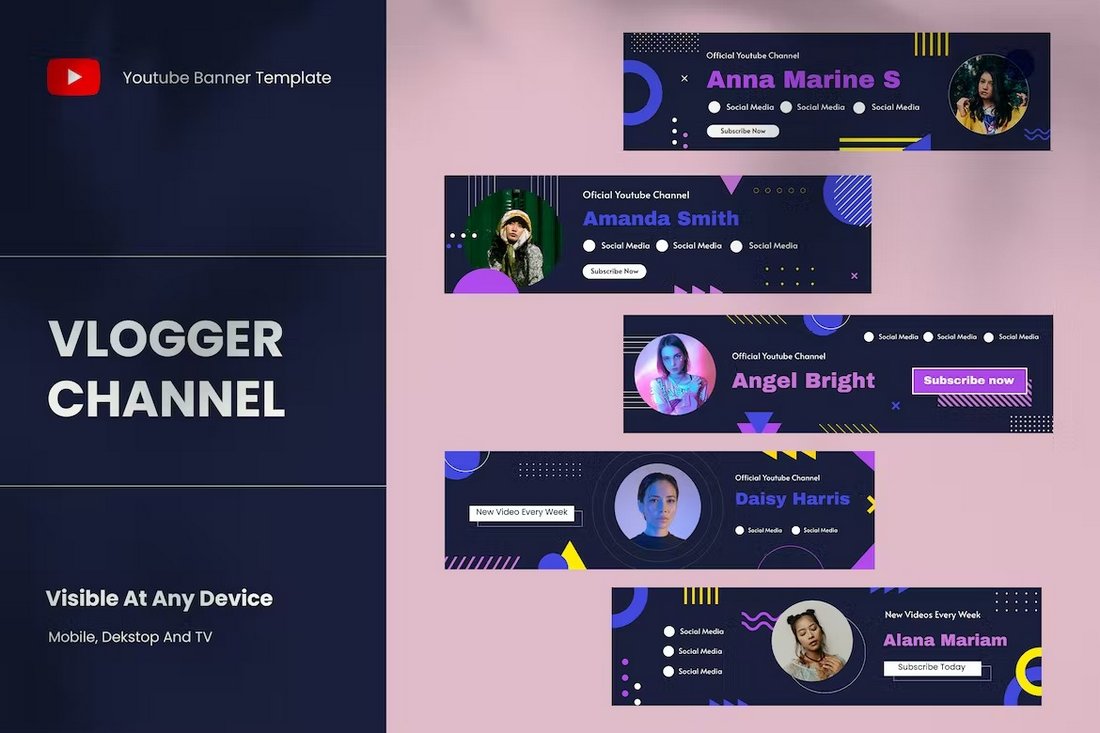 The YouTube cover art designs in this pack are made with both vloggers and podcast channels in mind. There are 5 creative cover designs with colorful layouts. Each template can be customized to your preference using Photoshop and Illustrator.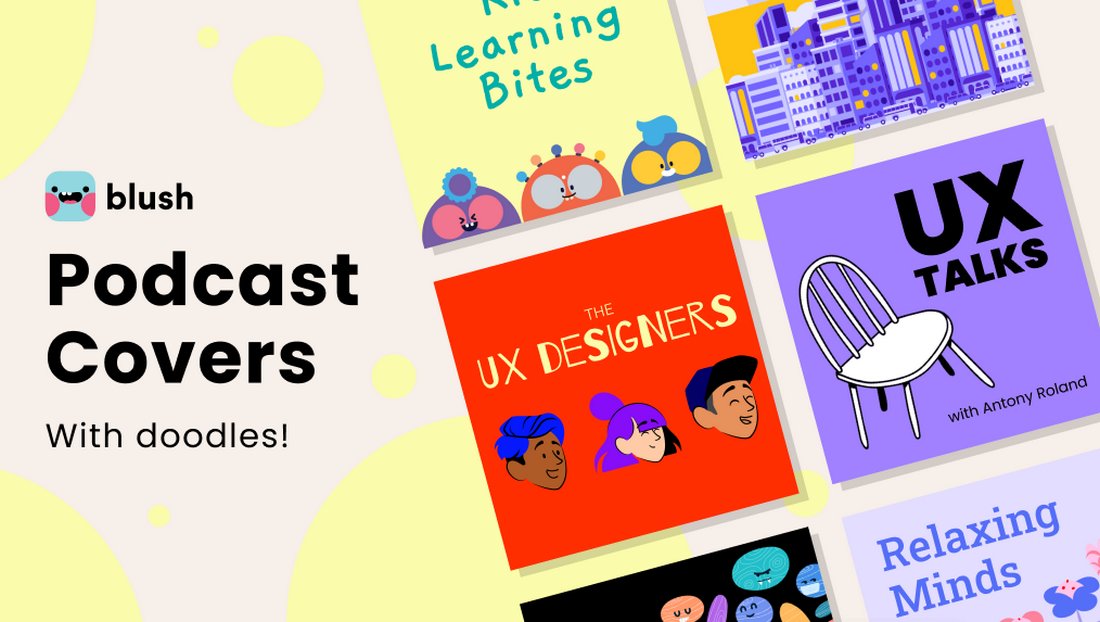 This is a collection of minimalist cover art templates that you can use for free. These templates have clean and simple designs. And you can easily customize them online using the Figma editor.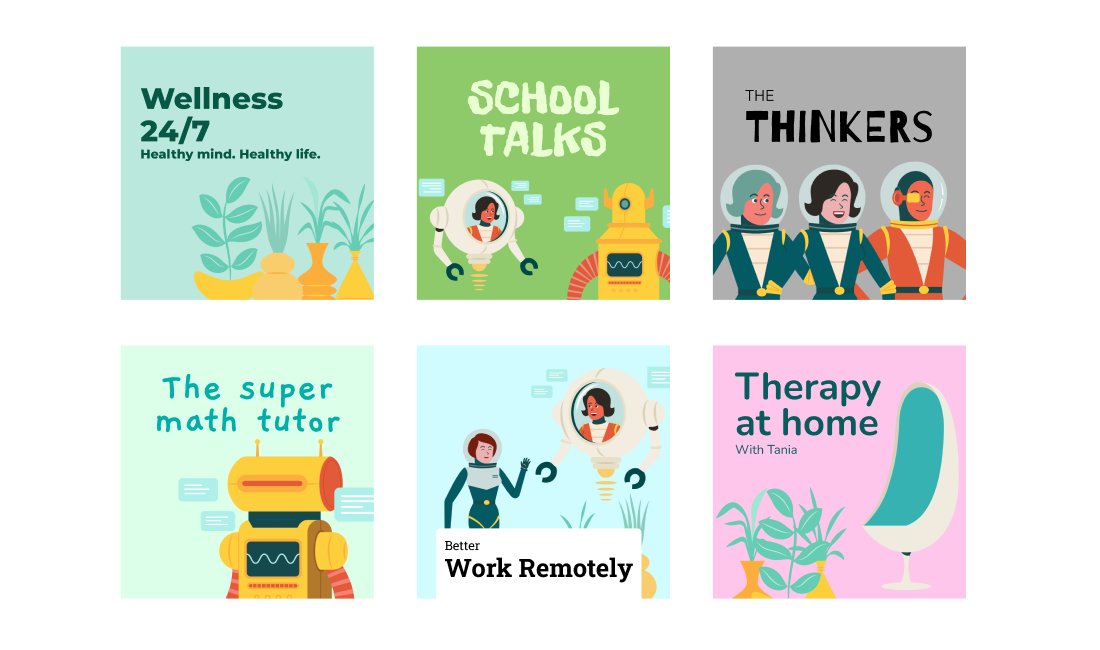 These templates are also free to use and they feature beautiful custom illustrations. The designs are available in Figma format and you can use the online editor to customize them before downloading the cover art.
5 Tips for Designing Podcast Cover Art
You can't go wrong with using a podcast template. But if you want to customize them to match your branding, be sure to follow these tips as well.
Use Proper Sizes
When customizing templates or designing your own podcast cover art, remember to download them in a high-resolution size.
Use a size of 3000 X 3000 pixels for your podcast cover art designs.
Different podcast platforms use different sizes ranging from 1400 X 1400 to 3000 X 3000. So it's best to use a higher size so the platform can scale down if necessary.
Smile for the Cover Art
If you look at some of the most successful podcast channels, you'll notice that almost every channel art has a photo of a person smiling. This is a great way to make your podcast memorable and welcome your audience.
So try to include a smiling photo of yourself in your podcast cover art.
Use A Great Font
When crafting the titles and text in your cover art, make sure to use a high-quality and easy-to-read font.
Avoid using script or handwritten fonts as they tend to make text hard to read. Instead, use a clean sans-serif or serif font for the typography.
Choose Colors Wisely
Try not to use too many colors in your podcast cover art design. Instead, create a minimal color scheme or up to two or three colors. Also, make sure the colors you use in the cover art represent your brand.
Consider Your Audience
Last, but not least, consider your target audience when choosing a design for your cover art design. The cover art designs for a technology podcast and a talk show podcast will have completely different designs.