A great set of financial apps and tools can make it easier to manage your freelance business. From tracking receipts and invoices for clients, to making sure you're ready for tax season and have all your expenses accounted for. There are plenty of great apps to help you manage your freelance business.
Characteristics of great finance apps are that they are secure, cloud-based, include automation tools to help you work more efficiently, are affordable, come with financial accounting and reporting that you can understand and customer support when you need it. All of the apps on this list fit the bill.
1. Invoicely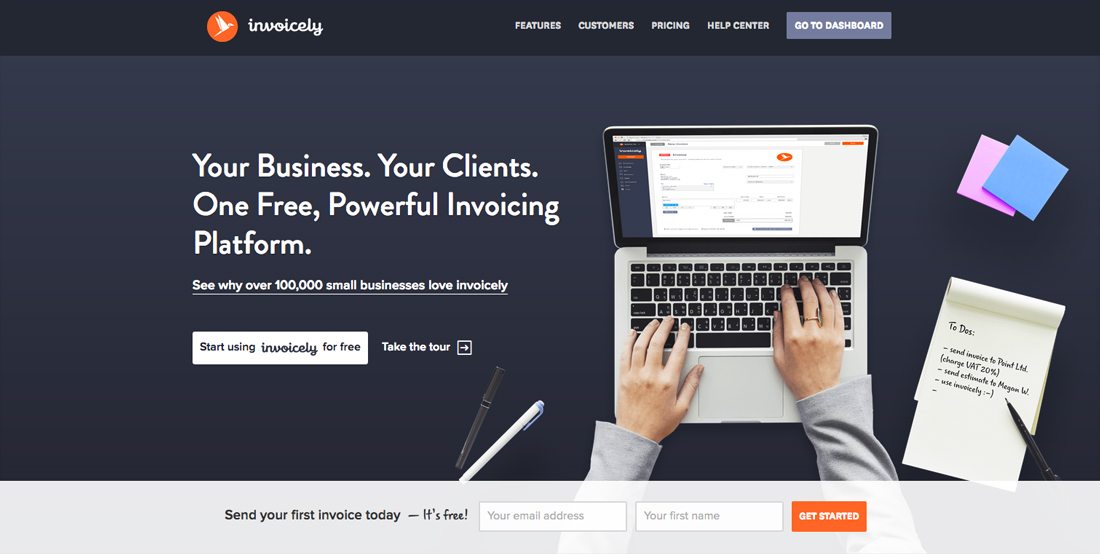 Paid plans let you brand every invoice with a custom URL, colors, and icons.
Invoicely is an invoicing platform with robust reporting features that make it easy to keep track of clients, payments, and expenses. Plus, invoices are well-designed and easy to manage all in one place.
Key features include the ability to track all your finances in a visual format, ability to accept online payments (even from mobile devices) and track time, expenses and mileage.
Invoicely comes with automation tools for recurring invoices and payments; you can create and manage taxes, discounts and shipping rates; and paid plans let you brand every invoice with a custom URL, colors, icons and log-in screen.
Cost: Invoicely has free and paid plans, depending on the level of invoicing you need. The free plan includes unlimited invoices and online payments through PayPal; the Basic Plan ($9.99 per month) also allows for two team members, time and expense tracking and recurring statements, online payments through multiple servers and multiple businesses within one account; the Professional Plan includes all features for up to 10 team members and the Enterprise Plan includes all features for up to 25 team members.
Try it: You can try it free and upgrade as your business grows with the ability to upgrade or downgrade plans at any time.
2. Cushion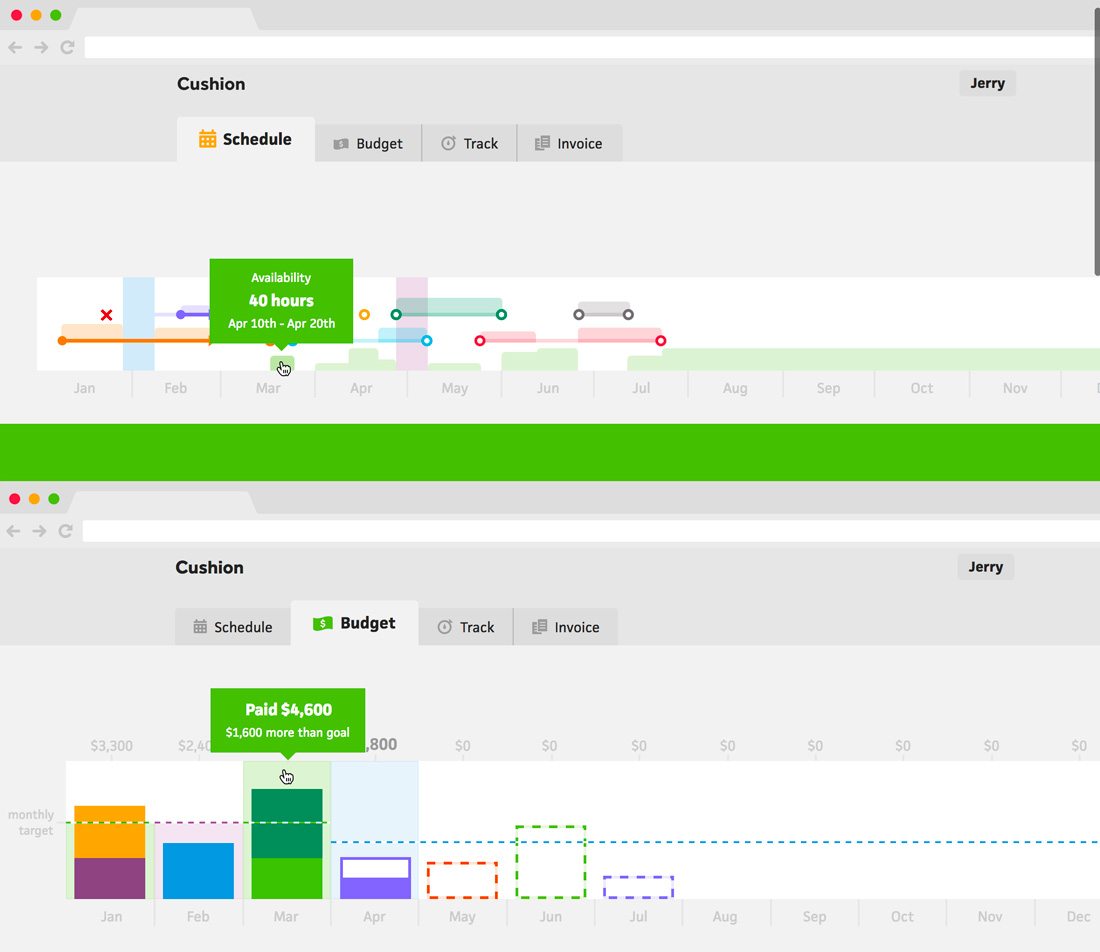 Cushion connects with Harvest, Freshbooks, FreeAgent and Xero for more seamless workflows.
Cushion is an app designed to help you manage time and expenses so that you can budget projects and forecast how your business is doing. The premise of the app is that it is supposed to help make freelancing a little less of a rollercoaster ride of a business model.
Key features include schedule forecasting so you can plan projects up to one year at a time, the software helps you keep track of financial goals with monthly income projections and adjustments based on work, invoice clients right from Cushion (and see which clients are always late), project-based costs so you know if clients or jobs are money-makers or losers, time-tracking tools for when you need it and integration with other common freelancing software. Cushion connects with Harvest, Freshbooks, FreeAgent and Xero for more seamless workflows.
Cost: Cushion offers three paid plan options: Moonlighter is $5 per month for one user and five clients/15 invoices, Freelancer is $10 for one user and unlimited clients and invoices and Collaboration for teams with multiple users.
Try it: Cushion is free to try for 30 days.
3. Shoeboxed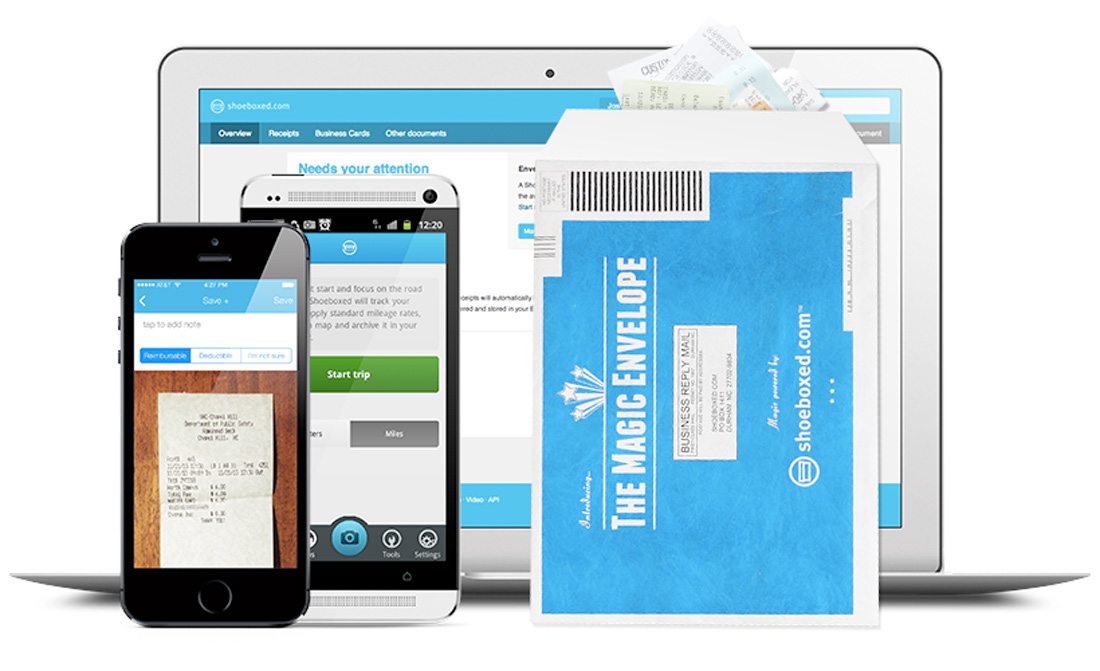 Shoeboxed provides a way to deal with receipts, expense reports, and mileage expenses online without having to keep track of so many slips of paper. It's an easier way to manage what can be a bookkeeping nightmare for many freelancers and you can use all of this information come tax time.
Key features include receipt organization with precise scanning and human data verification, ability to generate expense reports with receipt images attached, online business card management that you can export to a CRM, mileage tracking using your smartphone's GPS, a "magic envelope function" to hold and store prepaid envelopes with your actual documents and tax preparation tools with IRS-accepted receipt images.
The online app is easy to use with a simple interface.
Cost: Shoeboxed has a "free for life" plan, as well as paid options with more features, including a lite plan with up to 50 paper documents per month ($15 per month), classic for up to 150 documents per month ($39) and business for up to 500 documents, three users and QuickBooks integration ($69).
Try it: Just sign in with your Google account to get started.
4. TransferWise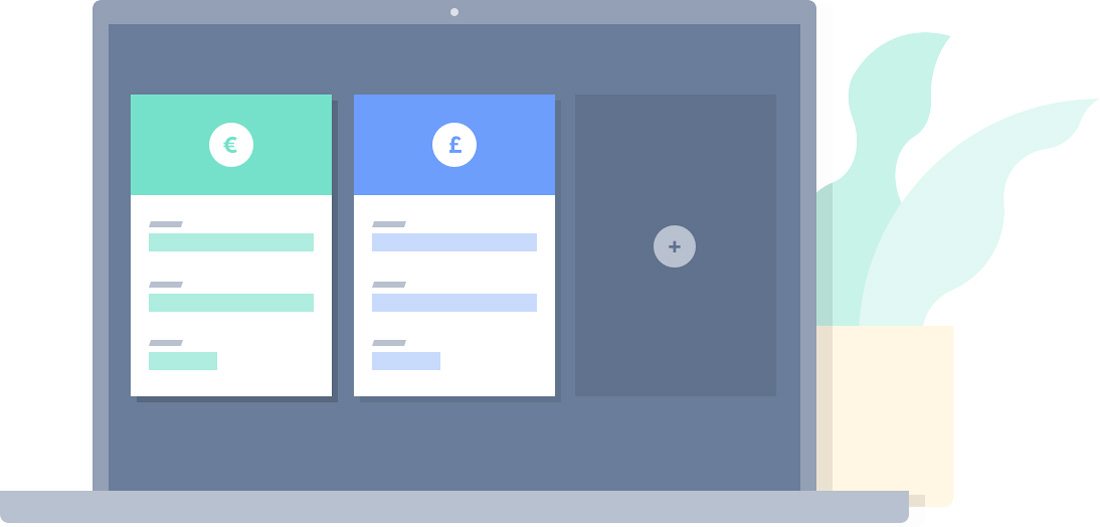 Accounts are free, and each send comes with a simple fee structure.
TransferWise might be the most affordable and easy way for freelancers and clients to send money internationally. The platform uses the real exchange rate, or mid-market rate, to help people and businesses send money internationally. The rate is guaranteed for all transactions where the money is deposited for sending within 24 hours.
Key features include lower sending costs that can save international clients up to eight times what other services and banks charge, money is deposited right to a connected bank account, and recipients don't pay for transfers.
Cost: Accounts are free. Each send comes with a fee that you can see right up front.
Try it: Create a TransferWise account for your business and start getting paid quickly.
5. Wave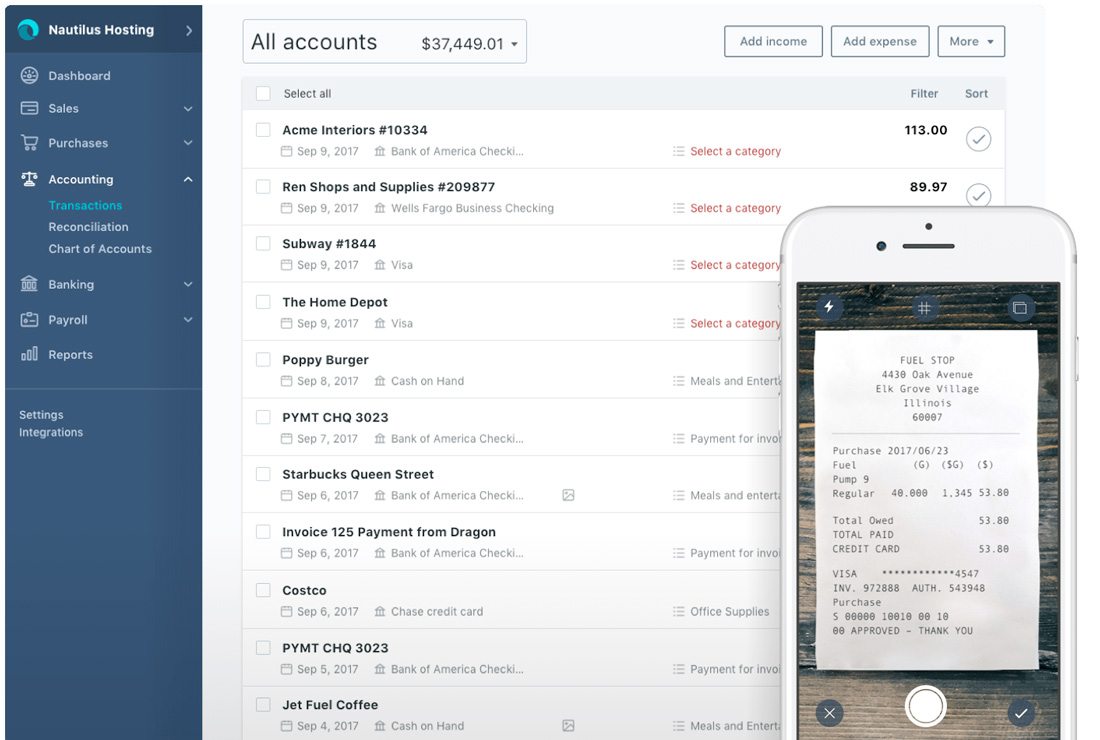 Wave is a great option for newer freelancers (or those that don't need a lot of bells and whistles with an invoicing app). You can import and track expenses, but you can't track time. Plus this app is free for all users – a nice bonus – and allows you to accept credit cards and bank payments.
Key features include multiple invoice customization designs, integrated payment processing, income and expense tracking with easy to read reports and ability to pay team members with direct deposit payroll with tax calculations and online pay stubs. Payment processing and payroll features are pay-as-you-go based on which services you opt to connect, but you only have to pay if and when you use these services. Fees include common charges such as credit card processing fees.
Cost: Free for all users.
Try it: You can get started with Wave without a credit card, just login online or download the apps for iOS or Android.
6. Shake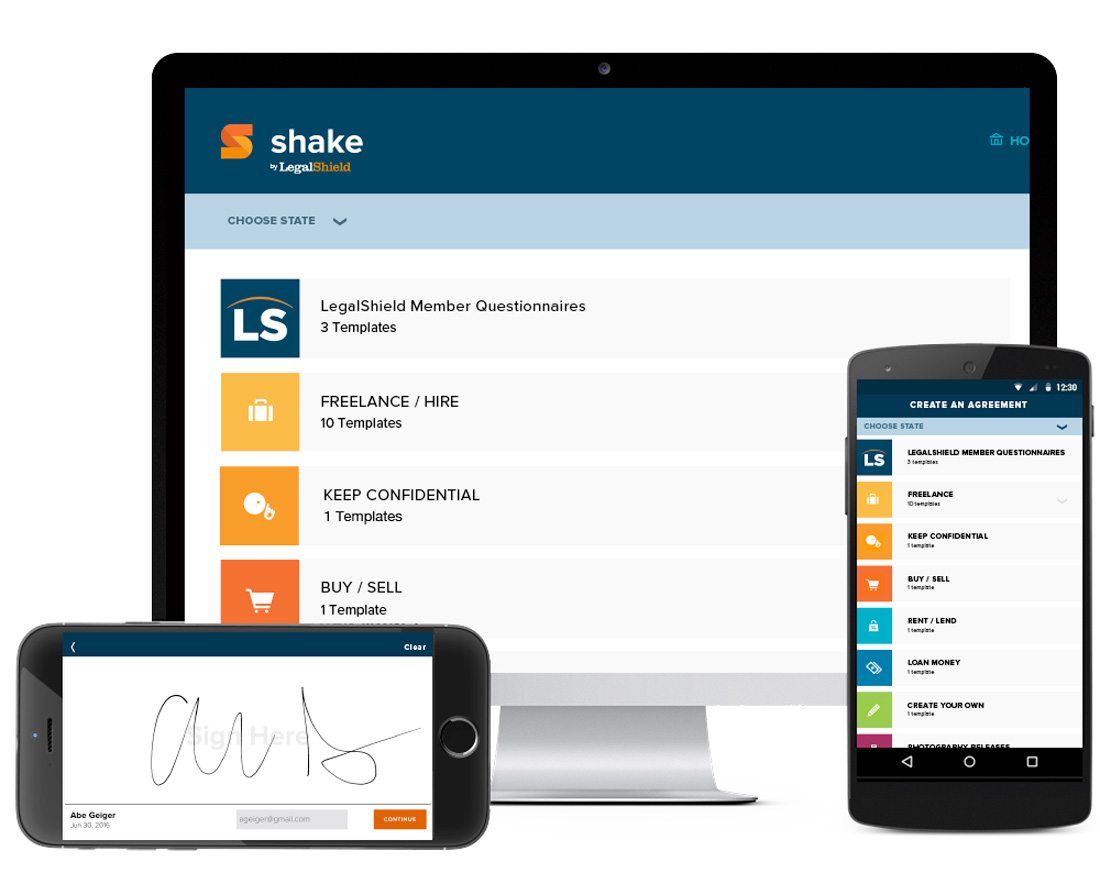 Shake is a legal contracts app, which isn't financial by nature, but can save your business financially. A solid contract can help you specify important terms with clients, protecting you and your business. The app keeps you from having to re-invent the wheel every time you need a new basic contract.
Key features include the ability to create, sign and send legally binding contracts quickly. Plus all your documents are stored in the app for easy access at any time. Contract recipients can even sign documents from any device and return immediately. No more waiting on the mail, which can delay contracts and keep projects from starting quickly.
Cost: Free.
Try it: Create an account, pick a contract type, fill in your details and send it right from the web or mobile app.